12 projects set to transform Detroit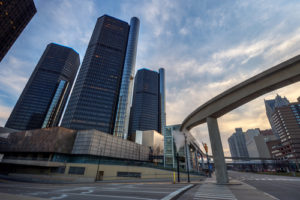 There are development projects and then there are transformational projects—those that change how we live, work, play, and get around our city. Detroit's landscape is changing every day, hopefully for the better, maybe not always. We've mapped out 12 specific projects—either in progress or planned—that we think will be transformational to their neighborhoods at least, and possibly the city as a whole.
This time we're including the Packard Plant, the largest renovation project in North America, that officially broke ground in May after years of planning. We're also including a new bridge to Canada that will start construction possibly next year and open sometime in the next decade. Also on the list is the Hudson's site—with the tallest building in Detroit planned to open in 2020. Disagree with one of them? Did we forget something? Our comments are open!
1

 Hudson's site

Dan Gilbert and Bedrock plan to start construction on the tallest building in Detroit (by a few feet) later this year, to be completed in 2020. The development will include an 800-foot-tall tower with an observation deck, 75,000 square feet of public space, a ground floor market, 100,000 square feet of retail space, and a performance space with a 1,500 person capacity.

The building will be 1,000,000 square feet in total (not including underground parking for 700 cars), with 330 residential units and 240,000 square feet of office space.
2

 The District Detroit

The Little Caesars Arena opened this September, bringing all four major sports teams within a few blocks of each other. The entire area around is is being built up, including residential, parking, retail, a hotel, a medical center, the Mike Ilitch School of Business, and the Little Caesars Headquarters. That's a lot of Hot and Readys.
3

 Packard Plant

The scope of this project is almost unreal, but Arte Express officially broke ground on the first phase of the Packard Plant redevelopment this spring. By late 2018, we should see the renovation of the Administration Building and bridge crossing East Grand Boulevard. In the future, we could see artists lofts, manufacturing, recreational opportunities, and more. This is an area of the city that needs a boost from redevelopment and jobs, and this could be a big catalyst for that.
Blink and you miss another announcement in Capitol Park. Next year, look forward to the completed renovation of the Farwell Building and the David Stott Building. New construction at 28 Grand is finishing up, adding micro apartments to Detroit's residential scene. Two new, very modern residential buildings could be in the works in the coming years. The park itself will also undergo renovations in 2018. It's fast becoming one of the most vibrant areas downtown.
5

 East Riverfront

The Riverfront is already a popular destination in Detroit—in the coming years, expect redevelopment of vacant warehouses and land, increased residential and retail, streetscapes along Jefferson, a new greenway, an urban beach, and eventually the Riverwalk extending to Belle Isle. Development has already been announced for the Stone Soap Building, bringing a modern look to an old warehouse. Nearby, plans were just announced for new residential and a grocery store at East Jefferson, bringing even more density to the area.
Two big projects are happening in Corktown over the next few years. First, the old Tiger Stadium will be transformed into the PAL Headquarters, with a baseball field. More residential will be added at the Corner of Michigan and Trumbull, possibly breaking ground later this year. Across Trumbull, the Checker Cab building will be converted to lofts, and more residential will be built on the five blocks behind. Elton Park will add 150+ rental units plus retail to Corktown.
7

 Brush Park Historic District

For so long, many thought Brush Park was an afterthought, but mansions are being restored, property prices are rising, and so many more residential units will be built over the next few years. The Scott at Brush Park was completed last year, adding a high end apartment building to the neighborhood. Bedrock has started work on City Modern, adding 400 new residential units, including apartments, condos, and townhouses, to vacant lots. We'll see quite the mix of old and new in the coming years.
8

 Fitzgerald neighborhood

The Fitzgerald neighborhood near the University of Detroit Mercy and Marygrove College will see over 100 homes renovated over the next few years, with greenways and parks, plus vacant lots activated. A new park and community center recently broke ground on the project. Century Partners and the Platform are leading this ambitious project.

A similar project was just announced by the city in Old Redford. Could we see more transformative development in the neighborhoods in the coming years?
The 26-mile non-motorized pathway through the city has been in the works for years. It was just named the Joe Louis Greenway, and it will run from the East Riverfront, up through Hamtramck, over to Highland Park and the University District, down to Southwest Detroit. Bike culture has picked up in Detroit over the past few years, and this will give people more ways to get around the city.
10

 Herman Kiefer redevelopment

New York developer Ron Castellano has been working on the redevelopment of the massive Herman Kiefer complex. Early plans call for a hotel and skate park. Development of the 17.9 acre site could be a catalyst development in the surrounding areas.
11

 Gordie Howe International Bridge

More talk has been happening around the Gordie Howe Bridge lately, but the 2020 completion date doesn't look realistic anymore. Earlier this year, the city sold land in Delray to the state of Michigan for bridge development. More than 450 Detroit families will be impacted by the upcoming construction and they can choose whether to stay in their neighborhood or move to a renovated home in a different neighborhood. The Morouns could also still build a second span of the Ambassador Bridge in the coming years.
12

 State Fair Grounds

Plans have been stalled for so long on this massive development, which could include more green space, bike paths, urban gardens, a multiplex theater, band shell, and still-vague retail and residential. This development could really add a boost to the area, which also has a large transit center. Don't hold your breath; this one could take a while.