6 Lessons You Don't Have to Learn the Hard Way
By

Admin
Jul, 14, 2016
Comments Off

on 6 Lessons You Don't Have to Learn the Hard Way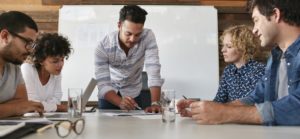 You launched your small business to forge your own path. Following others isn't your style. But in one respect, you should be tracking other entrepreneurs–not only to emulate them, but to avoid the missteps they've made. Drawing lessons from their experiences helps you avoid having to learn these lessons the hard way and simplifies your path to creating a stronger foundation for sustained performance and profitability.
1. Narrow Your Marketing. It may seem counterintuitive to not try to market to everyone, but Brad Farris of business consultancy Anchor Advisors says it's important to focus your marketing on the best types of customers for your company. "Don't go chasing around a bunch of leads that aren't going to be good for you," he says. Think about the attributes of your best customers and develop "personas" that describe them and their needs, as well as why they buy from you. Keep those personas in mind when you're planning your marketing to better focus on the messaging that matters to them and the best media to reach them.
2. Get Serious about Receivables. Collecting outstanding receivables was the biggest challenge for roughly one-quarter of respondents to the 2015 Atradius Payment Practices Barometer survey. Jane Applegate, executive producer at The Applegate Group Inc. and author of 201 Great Ideas for Your Small Business suggests requiring a down payment before you begin a project. The size of the down payment will depend on your business and the size of the order–it might be as little as $25 or $100 or up to half of the project total. "Don't be afraid to ask for what you need, and don't dismiss yourself as too small," she says.
Running credit checks on prospective customers with services like Dun & Bradstreet or Experian is also a good idea. Be sure you're invoicing as soon as possible and following up on late payers regularly. Sometimes, business owners balk at doing so because they're worried about angering clients, but late payments can hurt your cash flow and, possibly, your borrowing ability. Once an invoice is late, send a polite email or make a telephone call inquiring about the status of the payment. Sometimes, customers may have misplaced an invoice and the situation can be easily rectified. If that doesn't work, follow up a week or two later via email or postal service explaining that the account is now past due and, in order to keep it in good standing, payment needs to be made. If you're dealing with a good customer who has a cash-flow crunch, you may wish to work out payment terms so the company or individual can pay you installments over time to bring the account current.
3. Secure Your Financial Safety Net before You Need It. Funding growth–from making new hires to paying for more materials and marketing–can be expensive. If you wait until you're in a cash-flow crunch or making late payments before you try to get the loans or lines of credit you need, you may find yourself out of luck. "Banks like to lend to companies that don't need money," Farris says. Track your growth projections closely, and build your business's credit profile by ensuring that trade creditors–perhaps your printer or merchandise vendors–are reporting your timely payments to Dun & Bradstreet or Experian, ensuring that your company's utilities are opened in your company's name instead of your personal name, and perhaps obtaining an appropriate line of credit from your bank. Each of these actions will help you land the money you need to keep fueling your growth when you need it.
4. Prepare for the Unexpected. Running a business is filled with unexpected twists, from increases in raw materials pricing to dealing with new competitors. By developing models that show the impact of these changes on your business, you can be better prepared for them, says Bill Adams, CEO of The Leadership Circle and co-author of Mastering Leadership: An Integrated Framework for Breakthrough Performance and Extraordinary Business Results.
Create a spreadsheet to show various if-then scenarios, such as materials cost increases or sales decreases and their effect on your bottom line. For more sophisticated modeling tools, you can also turn to a consultant from your local Small Business Development Center or a business finance professional. You can also turn to online tools such as Sumwise or PlanGuru. Good models can help you see if it's time to find new suppliers or make other cost adjustments to your business.
6. Invest Your Time for the Best ROI. Many business owners try to do too many things themselves, but being stretched too thin can actually harm your business. Spend your time on activities that deliver the most return on investment (ROI), Adams says. Often, those are areas like helping to close big accounts or engaging in long-term business planning. Delegating may mean hiring capable employees, freelance or temporary help, or even a virtual assistant. Also, look for software, cloud-based or other tools that can automate various tasks, ranging from running financial reports (such as Quickbooks or FreshBooks) to managing onboarding documents for new employees (such as BambooHR or ExactHire).
Source: Inc Magazine – Click here to read the full article.