Improve Billing Procedures to Beef Up Your Bottom Line
By

Admin
Sep, 29, 2016
Comments Off

on Improve Billing Procedures to Beef Up Your Bottom Line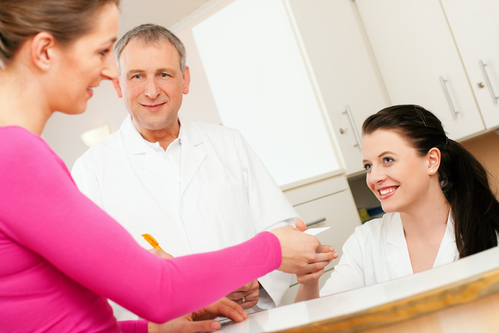 Efficiency is a major key to success, especially when it comes to medical billing.  Make your practice's financial policy clear, defined, and reinforced—both to your patients and to your staff.  Ensure that your patients have every tool necessary to pay according to your policy, and that your staff consistently implements a billing procedure that is correct, timely, and followed-up.
Practice policy to bolster your bottom line:
Clearly post your payment procedures:  above the counter, in brochures in your waiting room, on all statements they receive, and they should be given to every new patient.
A description of payment terms should be included in your policy.  List out acceptable forms of payments and whether or not you expect payment or co-payments at the time of service.
If you accept credit cards and are performing recurring payments, based on a payment arrangement with a patient, be sure you are storing credit card information offline in a secure locked cabinet.  Most banks and insurance companies will hold you liable for not following security procedures.  Be sure to check with them on what you can and cannot do with regards to storing patient credit card numbers, expiration dates and security codes.
Set up payment capabilities through your website so you can accept credit card payments or ACH payments electronically.
Whatever your missed appointment policy is, make sure to detail your terms, including how much advance notice is needed before cancellations.  Consider the need to establish a fee policy for missed appointments.  Your time is valuable and some practices have started charging a fee of $25 in an effort to compensate for missed appointments.
Staff essentials to strengthen your billing:
Give your staff specific, written billing procedures, so that they understand their role.
Make sure staff members are mailing bills on a timely basis, and that accounts are reviewed every 30 days.
Instruct your staff on procedures for following up on overdue accounts.  A little training and some scripts to follow will ensure that your staff is prepared to make calls, set up payment plans, or evaluate when it's time to turn an account over to collections.
Arm your staff with knowledge when it comes to the different payers your practice deals with.  Having them develop relationships with particular insurers will allow them to have a better understanding of the nuances of these companies, and will help them quickly resolve billing issues.
Consider the software you use, and decide whether you could benefit from different software that streamlines your billing procedures.
Ensure that your billing staff has a firm understanding of coding accuracy.  Many rejections of a claim are due to coding errors or clerical errors in information relating to the patient.  Take the time to glance over claims again, and to double check information against your records.
Giving extra attention to detail in your billing procedures helps keep your practice running smoothly, while improving revenue.  When everything else is a well oiled machine, your focus can remain what it should be: providing excellent care to your patients.  Please feel free to contact Heidi Lund to review office procedures and policies or to establish collection procedures that will improve your bottom line.
Heidi is the partner in charge of Healthcare at Polk and Associates and has been a QuickBooks ProAdvisor since 2002.  The firm has several QuickBooks ProAdvisors that can help you with various questions or problems.  Please feel free to contact us for assistance.