Manufacturing Hiring Surges, but Skills Gap Shows Vacancies
By

Rick Williams
Jun, 27, 2017
Comments Off

on Manufacturing Hiring Surges, but Skills Gap Shows Vacancies
American manufacturing outfits are hiring across the board, although 'Help Wanted' signs are still plentiful.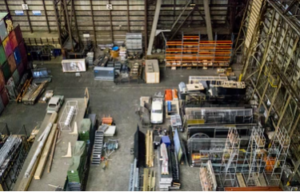 More manufacturing outfits brought on new workers in March than at any point since the front end of the Great Recession in early 2008, according to a report published Tuesday by the Bureau of Labor Statistics.
The bureau's so-called JOLTS report – short for Job Openings and Labor Turnover Summary – showed that nearly 5.3 million employees were hired across the U.S. economy in March. On the manufacturing front alone, 322,000 workers were added to payrolls.
There hasn't been a month during which industrial work has been in such high demand since April 2008.
All told, 922,000 manufacturing hires were made during the first three months of this year – up notably from the 828,000 additions made at the beginning of 2016. The first quarter's hiring numbers also mark the best start to a year the manufacturing sector has seen since 2008.
"Americans appear to be more optimistic about growth in recent months, and manufacturers are no exception," a recent first-quarter industry report published by the National Association of Manufacturers said. "The rising confidence stems from the belief that the new administration in Washington, D.C., will bring much needed regulatory relief – as well as reforms to the tax code and a significant infrastructure package."
"Indeed, business leaders are cautiously hopeful that pro-growth policies from Washington will allow the country to emerge from the sluggish expansion seen in the years since the Great Recession," the manufacturing report said, though it also cited potential trade policy adjustments and "political uncertainties" associated with the new administration as variables industry executives have had to "grapple with."
The JOLTS report also showed there were 394,000 manufacturing jobs up for grabs at the end of March that employers were looking to fill. That tied last July's total for the largest number of vacancies the sector has seen since April 2006.
Renewed demand for domestic manufacturing is believed to be partially driving that inflated openings number. But a skills mismatch – meaning a lack of qualified employees to maintain what can be complex manufacturing equipment – is also believed to be a factor.
"You'll find that 70 percent of the population needs skills or a certificate. And I don't see us addressing that as a nation. And when we look at 300 million people in the United States and 1.3 billion in China and 1 billion in India, you better start paying attention to what you're doing with your human capital," says Tom Humphries, president and CEO of the Youngstown/Warren Regional Chamber in eastern Ohio. "We know now we're not meeting the demands of the employer."
Humphries says workers don't necessarily need a degree, but some experience or a certificate can open a variety of doors. Community colleges and even individual employers in certain parts of the country have taken on the task of investing in training programs to close this skills gap, but Humphries says progress also can be made by tweaking education at the high school level.
"If you look at the percent of the degreed people and the opportunity, there's a mismatch. And it's a national issue," he says, suggesting many advanced manufacturing opportunities don't necessarily require a four-year degree over a two-year certificate or some similar qualification. "We took all of the trades from the high schools and put them in a separate building and we called it a technical center or a trade center. And, in fact, we should have done the reverse. We should have put our college prep stuff in their own buildings and kept trades in the schools."
The manufacturing sector for years hemorrhaged workers and struggled to build momentum. And even though it now appears to have turned a corner – presenting problems like a shortage of qualified employees for increasingly available positions – it isn't out of the woods just yet.
An estimated 105,000 manufacturing workers were laid off in March, according to the JOLTS report, marking the largest number of discharges in the sector since June. So even though manufacturing outfits are having a hard time finding qualified workers, there's progress to be made when it comes to retainment.
A separate job cuts report published by outplacement and research company Challenger, Gray & Christmas showed similar signs of manufacturing turnover. Between January and April, the automotive sector – which last year was one of the few consistently strong aspects of domestic manufacturing – saw more than 8,700 layoff announcements. That's up notably from the 6,452 announcements made during the first four months of 2016, and ranks the auto sector fourth among all industries in terms of cutting jobs this year.
Meanwhile, the industrial goods sector, which Challenger tracks independently of American automakers, slogged through more than 7,100 announced layoffs, though it's worth noting that's less than half of the 14,756 announcements made in the first four months of 2016.
All told, data suggest the manufacturing industry has broadly turned a corner and jobs in the sector are in high demand. But with political uncertainties on the horizon – such as a potential renegotiation of the North American Free Trade Agreement – America's goods-producers may not be out of the woods just yet.