Multifamily Rents to Remain Steady
By

Admin
Feb, 14, 2018
Comments Off

on Multifamily Rents to Remain Steady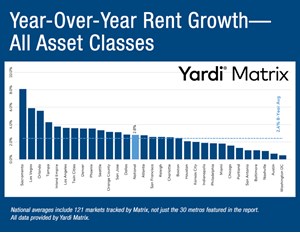 Although growth tends to be flat throughout the winter months, the average national rate rose 20 basis points from December and is forecast to persist in the range of 2.5 percent.
On a year-over-year basis, multifamily rents have gone up 2.8 percent through January, which is a rise of 20 basis points from last month. Despite this, the average rent price only went up by $1 to $1,362, the same level it reached in July 2017. This could be due to the fact that rent growth tends to be flat throughout the winter months, but according to Yardi Matrix's monthly report, rent growth is forecasted to remain in the range of 2.5 percent.
Two-thirds of the top 30 metros are within 100 basis points of the national average, Sacramento performing at the top once again. The metro had an 8.1 percent year-over-year growth that is 220 basis points above the runner up, Las Vegas, which had a 5.9 percent year-over-year increase, followed by Orlando (5.6 percent) and Tampa (4.2 percent).
With 300,000 units delivered in 2017, the occupancy rate fell by 50 basis points nationally to 95.2 percent. The impact was the same on both Lifestyle (94.7 percent) and Renter-by-Necessity properties (95.4 percent), however RBN outperformed Lifestyle by 1.2 percent due to the demand for more affordable units and new Lifestyle units creating the gap. Out of the bottom six metros in rent growth (Kansas City, Portland, San Antonio, Austin, Baltimore and Washington, D.C.), all but Baltimore added new supply at an above average national rate.
To read the full report, visit the Yardi Matrix website.