Property Tax Exemption for Disabled Veterans and Unremarried  Surviving Spouses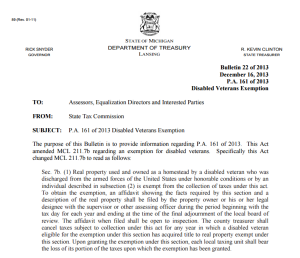 An exemption from property taxes is available to disabled Veterans and unremarried spouses of deceased disabled veterans.
Eligibility – The veteran must have been honorably discharged,  be a resident of the state of Michigan and meet 1 of the following:
100% permanently and totally disabled by US department of veterans affairs.
Has a certificate from US veterans administration certifying receipt of pecuniary assistance for specially adapted housing.
Rated by US department of veterans affairs as unemployable.
The exemption is available for real property located in Michigan owned and used as a homestead by the disabled veteran or their unremarried spouse.
The following do not qualify for the exemption:
Your home that you rent
A vacation home
A home in joint tenancy with someone other than your spouse
Vacant parcels contiguous to your homestead
Applying for the exemption – you must file an affidavit with your local assessor each year before the end of the December board of review.  You must also provide documentation showing one of the above listed conditions.
For 2015 you can still qualify for the exemption if an affidavit and required documentation is provided to your local assessor by the end of the December Board of Review.  If you qualify you will receive a refund of 2015 taxes that have already been paid.
Click here to view the official document from the Michigan Department of Treasury.